June 1, 2017
Wedding Day Photo Restrictions: Don't Forget to Ask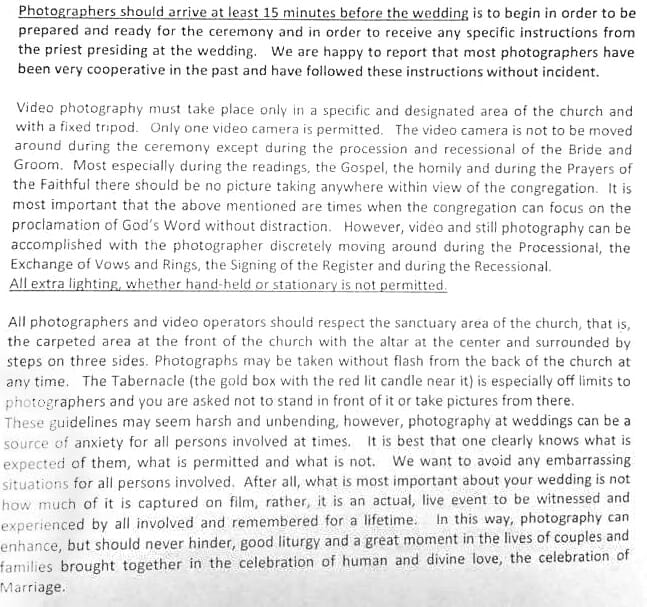 Wedding Day Photo Restrictions
There is so much planning, research and correspondence involved with planning your wedding day it's more than understandable if certain things don't cross your mind. But there is one thing that is oh so important that unfortunately I have heard some brides completely overlook. This article is mostly aimed at couple's getting married in a church because that is pretty much the only time you run into this issue. The issue I want to talk about is photo restrictions. Those words are the kind that makes your photographer shutter. We never want to have to work within photo restrictions because it can make our jobs a lot harder and we just want to capture your day to the best of our ability, for you. Wedding Day photo restrictions happen mostly for church ceremonies because priests are strict and believe that you shouldn't be distracted from your ceremony. However, if you've hired a professional wedding photojournalist they've already nailed being unobtrusive at your wedding.
Most Common Wedding Day Photo Restrictions:
No flash allowed
Photographers have to stay at the back of the church
Photographers have to pick a spot and stay there
No photos during the readings
No going up on the carpeted area (this is a given because it is a sacred space)
Photographers can only photograph from the balcony
Less Common but Possible Wedding Day Photo Restriction
Photographer is not allowed to photograph the ceremony
Yep, I'm serious I've worked on a wedding (as a second photographer) where the bride did not consult with the church about their wedding day photo restrictions. And to her horror, she later discovered that they did not allow the photographing of the ceremony. Yikes! This is why I am writing this post because I don't want to hear about that happening to anyone else. Your photographer should be bringing this up to you so that you find out the restrictions as soon as possible. Unfortunately, if you book a church that has these types of rules yet you tell your photographer to ignore them, for example. It's likely that a strict priest will stop your ceremony to scold your photographer. Which is hella embarrassing for them and you.
Make sure before you book your ceremony location that you find out about any wedding day photo restrictions that they may have!
Here's an example of the restrictions I received for a wedding. It seems like weird excuses to me but maybe they have had to deal with unprofessional photographers doing crazy things. Most times when your photographer arrives early to talk to your priest they waiver and let them use flash for example. You never know what could happen!
Check out more articles on advice for brides and grooms on the blog.
You might also like
October 10, 2017