January 26, 2018
The Wedding First Look: Should You Do One?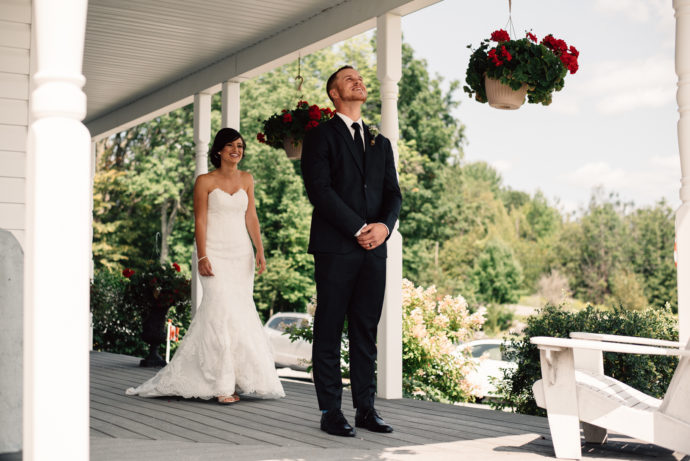 The Wedding First Look
You don't have to look too far on the internet to find out why the wedding first look has become such a popular part of the modern wedding. There are so many amazing first look photos that they will have the most traditional bride wondering if it's something she should consider.
However, deciding whether or not to do a first look may be one of the hardest decisions for a couple to make during their wedding planning. Do you do the first look and capture the unsuppressed emotion of you and your partner in that private moment or do you save it for when you are walking down the aisle in front of friends and family?
What is a First Look?
If you've never heard of a wedding first look or a reveal it is when a bride and groom see each other before going to their ceremony. It's usually set up so that the groom is facing away as the bride walks up behind him and touches him on the shoulder. At that moment he turns around and they both see each other for the first time. Their photographers are armed and ready to capture the resulting emotions which can be very sweet or very anti-climatic. Nonetheless, whether you and your partner have a crazy reaction or a quiet reaction, it's all about how you truly feel. The first look has become a popular part of the wedding day because of the images that can be created during this time. If you're a more reserved couple who may prefer having that quiet moment together before your wedding and are ok with your photographer being there it may be the better option for you. However, if you're somebody whos not afraid to show what you're feeling no matter how many people are watching, seeing each other during your ceremony may be the best choice.
The Tradition
We all know that it's traditionally bad luck to see your partner before you get married. But where did this belief originate from? Well, it's not so romantic… As many people know, back in history a marriage was more of a business deal rather than a commitment made out of love. The reason that the bride's family didn't want her to be seen by her soon-to-be husband before walking down the aisle was to make sure that he didn't change his mind. Yes, even though these marriages were supposed to be beneficial for each family sometimes the men not liking what they saw was enough for them to take off. The other tradition of shrowding the bride's face in a viel until she reached him at the alter probably helped too. There's a lesser chance of him taking off in front of everyone in the church rather than during a historical first look, right? Personally, knowing that this is the root of the tradition, it would probably steer me away from staying true to it. But if you're willing to forget the past and reframe it as more of a first look including your friends and family that works too.
Reasons to do the wedding first look:
A quiet time between the two of you before the big moment.
Capture amazing photos of you and your partner's reaction and pre-ceremony emotions. (Keep in mind that there will be a crowd between you and your love at the ceremony. Your photographer can only get so many angles in this situation.)
Complete your portraits earlier in the day while hair and makeup are fresh.
Freeing up time for later in the wedding day creates a more laid-back event.
Calm the pre-ceremony nerves by having a happy moment with your future spouse.
More time to spend with guests as most of your photos will be complete. (Most of the photo time at a wedding with no first look happens during the cocktail hour which couples, unfortunately, have to miss.)
Photos you can complete before the ceremony if you do a first look include family photos, wedding party photos and bride and groom portraits.
Even though you have expressed your emotions about seeing your partner for the first time on your wedding day it doesn't mean that you won't feel more emotions as they walk down the aisle.
Reasons not to do the first look:
You want your reactions to be seen by friends and family in attendance.
You want to keep with tradition and not see other until walking down the aisle.
Your parents or other family members want you to be traditional.
What you look like won't be a surprise to your partner when you're walking down the aisle.
You're not nervous so you don't need to see your partner before the ceremony to relax.
You may have to start your day earlier so you can fit in getting ready, the first look and photos before the ceremony.
You feel like this whole first look thing is just a trend that you may regret doing later.
You don't want to make your partner feel like they have to have the "perfect" reaction for the camera.

Questions to ask yourself if you're still not sure:
Will my partner show their true emotions to seeing me for the first time in front of a crowd?
Will seeing each other before the ceremony really take away from the happiness of walking down the aisle towards your lover?
Do you want your wedding to be a more intimate affair or a large gathering that includes everyone in every moment?
Could first look photos put too much "performance" pressure on me or my partner?
Could we create a situation where the first look is not too contrived and planned out, taking away from the realness of it all?
Do I really care that everyone else is doing it?
Do I want to spend the cocktail hour of my wedding day with my guests or taking photos?
Do I want my photos to be taken when my hair and makeup is fresh? Do I care if my hair gets windblown or if my makeup is runny/coming off?
Well, that's it, folks! I hope that this article has helped you moved closer to your decision on whether or not you want to do wedding first look photos! Good luck and happy planning!
See more articles regarding info for brides and grooms on the blog.
You might also like
February 15, 2018