November 14, 2017
Humber Bay Park Engagement Photos in Fall, Toronto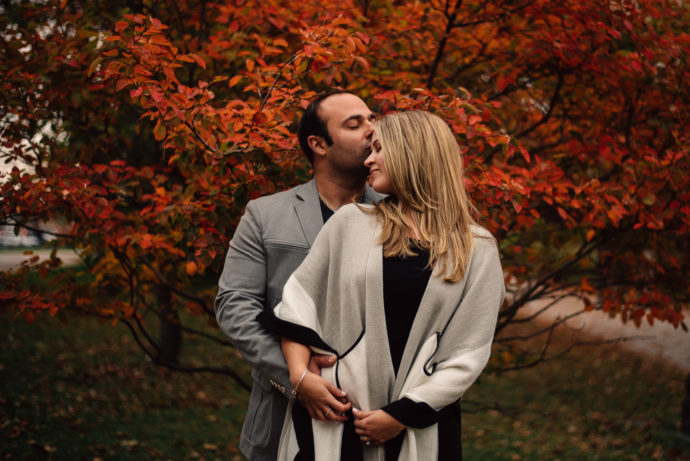 Humber Bay Park Engagement Photos
The Shoot
I had never shot Humber Bay Park engagement photos before so I was excited when Monika requested the location. It's awesome when couples have a spot they would like to use because it introduces me to new locations and the couple is more comfortable being somewhere with which they are familiar. Humber Bay Park was fantastic because it had a little bit of everything. A gorgeous forested area with lots of trees and natural features and then the beautiful Toronto skyline in the distance. I also fell in love with the awesome Humber Bay Arch Bridge. It really makes for interesting photos. Working with Monika and Michael was a real blast and I'm so happy they choose me to capture such a wonderful moment in their relationship.
Their Story
Monika and Michael first met at a wedding. That wedding happened to be Michael's brother's wedding. Monika was there because she worked with and is friends with the bride. The two of them started chatting and they hit it off immediately. The pair live in Stouffville where Michael is a firefighter and Monika is a teacher in Durham. The couple like to spend time visiting Toronto as she grew up there and her parents still live there. They like Humber Bay Park because it is a quiet slice of Toronto for a romantic walk. Michael planned an amazing proposal for Monika just in time for a trip to New York City. He popped the question under the Brooklyn Bridge with a stunning view of the NYC skyline in view. He must have planned it real cool because even though Monika knew they were soul mates, she was surprised when he got on one knee. They are now planning their wedding for 2019 and are very excited. Let's see if I'm so lucky to work with this amazing couple again 😉
Check out more engagement sessions.
Toronto engagement photography by wedding photographer, Chelsey Cunningham.
You might also like
July 30, 2016

August 14, 2017