December 4, 2017
Jenny & Mark | Durham Region Engagement Photographers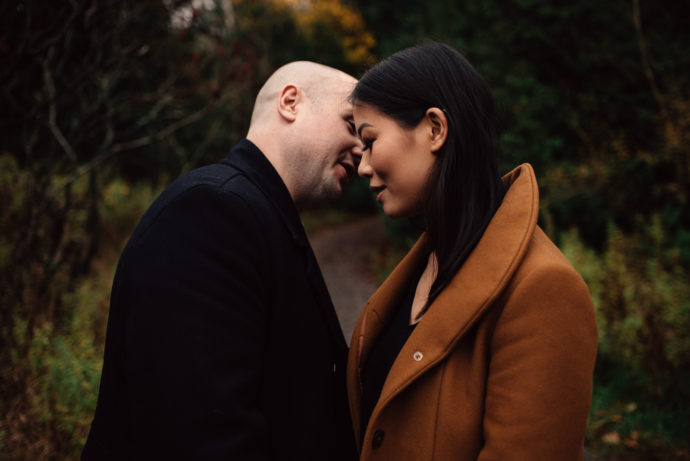 Jenny & Mark | Durham Region Engagement Photographers
The Shoot
For must Durham Region engagement photographers they want to choose a location that is suitable for the couple they are working with. When it came to Jenny and Mark's Durham Region engagement photos I was looking for a location that would be relaxing and also bring a nice hike along with the photoshoot. Who doesn't enjoy a beautiful fall hike with some good conversation right? Jenny and Mark had never had professional photos captured of themselves before so I wanted to make sure the process was as comfortable for them as possible. They also brought along their adorable little dog, Stella. I encourage all my couples to bring along the fur babies if they have any. They're part of the family so they deserve it. With it being fall the weather isn't as cooperative as it is in summer. For the forecast on this particular day, it was calling for about 40% chance of rain. J & M booked me 3 weeks before their wedding date and I need at least 2 weeks to shoot an engagement session and turn it around. So being about 2 weeks out from their engagement session at this point, the session had to go on. Here are some quick tips when trying to decide if you should continue with your session or reschedule. If the forecast is calling for 50% or more chance of rain within 3 hours of your scheduled start time you should consider rescheduling. However, if the forecast is only saying approximately 1 mm or less you can probably survive that right? You can always bring an umbrella and some wellies for good measure. Another thing that I think is important to look for when trying to figure out if you should reschedule due to weather is the wind. The wind can be forecasted to be worse than the rain in some cases. That's how it was for Mark and Jenny's engagement session. If the speed of the wind is super high it may make your session harder to complete then the rain would have.
The Couple
Jenny & Mark did really great during their first photo shoot! Especially Stella. She was so cute. Everything that the couple cuddled up or kissed she wanted in on the loving and would look up and them and try to jump on them. Mark was a little camera shy. This is where prompts really help out a couple more than posing ever would. Instead of directing them into exact positions I got them to interact with each other. How did I get them to naturally interact with each other? I asked them to do things like "cuddle up over here against this railing" or "talk about what you're most excited about for your big day". Specifically, with this couple, I had to be a little more silly because that's what their personalities are like. So asking them to do something super lovey-dovey like rubbing their noses together made them burst into laughter and silliness. Which was perfect! It's true to them right. And that's what I always hope to achieve when I am capturing the love of a unique couple. Everyone's different!
Thanks so much for checking out this photo shoot. Be sure to check out more engagement sessions! 🙂
Heber Down Engagement Session by Durham Region Engagement Photographers, Chelsey Cunningham.
You might also like
August 14, 2015

December 29, 2016