August 28, 2015
Children's Arena Engagement Photos – Jessie & Rob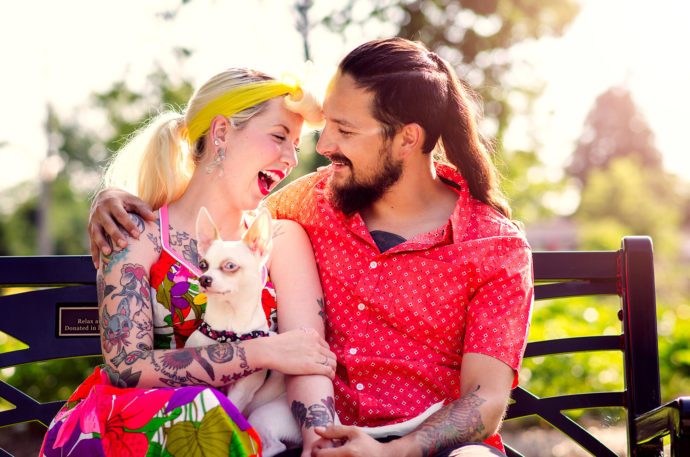 Children's Arena Engagement Photos
Jessie and Rob's Children's Arena engagement photos were so fun to create with them! These bright and colourful personalities really brought their best. They didn't hold back with showing how fun they were through the camera lens. Understandably, some people are a little nervous during their sessions but this couple was so confident when opening up to showing their emotions. I was so excited that the Oshawa peonies garden that is at Valleyview Gardens were in full bloom. What a great backdrop to shoot against. I also forgot to mention my favourite thing that many of my couples bring to their Oshawa engagement sessions! Their puppies! Jessie and Rob brought their adorable deaf chihuahua, Frank. I must admit it was hard to learn how to get his attention at first but he was a perfect addition to their engagement session.
Jessie and Rob. Two young people with old souls so deeply intertwined. Jessie and Rob have huge love for all things 1950's and 60's. You can find Jessie with her girl squad at every Oshawa car meet. She also is rarely seen in any outfit that doesn't fit the era. Jessie is a lovely vintage lady that is truly one of a kind. Already, they have been together for 7 years after meeting in summer school. That's right folks, we have high school sweethearts in the house! Once together they became inseparable.
Thanks so much for trusting me to capture such an important time in your lives, Jessie and Rob. It was so amazing getting to know you and your little fur kid.
Fast Forward! Jessie and Rob got married at Parkwood Estate in Oshawa and asked me to capture their day for them! Check out the photos!
You can now see Jessie and Rob's Wedding Day HERE! 🙂
You might also like
October 26, 2017