June 15, 2017
What to Expect at an Engagement Photo Shoot – Advice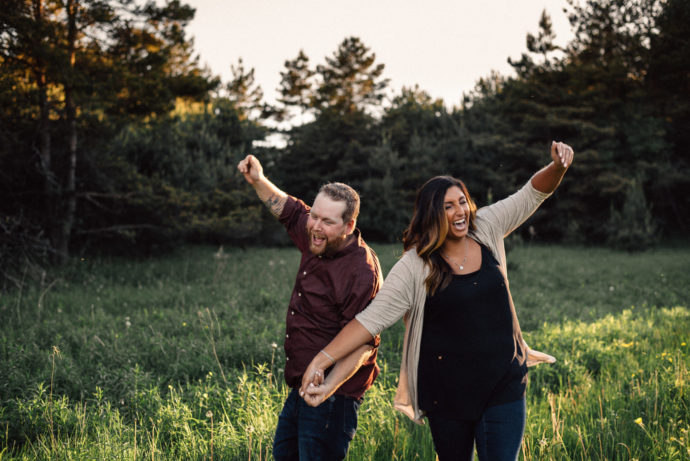 What to Expect at an Engagement Photo Shoot
While this article will cover what to expect at an engagement photo shoot the information provided here is relatable to couples, family, and maternity sessions. I have but together this piece so that my clients understand better how their session will play out and how to make sure it's the best ever.
Chatting and Getting Comfortable
When we meet up we won't immediately just jump into taking photographs. I want to find out more about you two as a couple. I love to connect with you two on a deeper level as it really helps the creative process. We'll walk around the location and chat first. This is a very important part of the session as it helps you get comfortable with me before I stick you in the limelight for a couple hours. This helps ease any possible awkwardness or closed off-ness that you to may be feeling in the beginning. We don't want those types of feelings ruining how awesome your photos could truly be! This also gives me another chance to tell you what to expect at an engagement photo shoot.
Music
Who doesn't like great music? Once we've chatted and relaxed I will but on a previously put together playlist of songs that I believe promote a more chill and romantic vibe. Music can help you get into a great intimate mood and even helps my creativity flow better. We don't need to take this session so seriously! It's about having fun together and make super cute photos.
Yay! You Don't Need to Smile
No, no, no. I will not be asking you to "Say Cheese". That's my worst nightmare. I think it's also a common misconception that the photos won't be nice if you're not smiling in every. single. one. If you two aren't naturally smiling I don't want you to smile at all. That's the truth! It's real obvious when couples are doing their "Smile for the camera" grin. If you're not naturally smiling that's also ok. The photos can be of a quiet intimate moment of you two just being together instead. There's nothing wrong with that.
Prompts
This is one of the big reasons that I have put together this "What to Expect at an Engagement Photo Shoot" article. I want you guys to know how I will be directing you. I will be using prompts to set you guys up for photos. This means I won't tell you to sit here, put your butt here, your feet here, your hands here… you get where I'm going. I want to coach you two as little as possible and have you two, for example, cuddle up to one another in a way that is natural and unique to you. If I was to full on pose you into a cuddled up position it would most likely look very posey and even awkward.
Example Prompts
Don't worry I will give you guys time to think about your answers, etc! These prompts are meant to help you guys smile, kiss and laugh. I promise I'm not being a weirdo!
Whisper something sweet and then dirty into their ear (My absolute fav! I almost always get roaring laughter)
Practise your first dance (This is harder for some couples but it can be so intimate!)
Talk about a time you were most proud of each other
Rub noses (Yes, sounds weird but this is meant to get you cosied up to each other and prompt giggling)
Talk about a time something really embarrassing happened but is super funny to think about now.
Warm them up (It may not be cold but when you pretend to be couples cuddle and squeeze in super nicely)
Kiss them all over (Just cute)
These are just a couple examples of the prompts that I have up my sleeves! I tell you this so you have some insights on what will be asked of you at your shoot. Have any suggestions that you think might work really great for you and your partner specifically? I'm all ears! You can also let me know if you think any of these are something you would rather not do.
Tip: Connect everywhere! What I mean by this is that you're kissing with your hand on the back of his neck but your other arm is just kinda hanging there lifeless. If you connect with everything it makes you two look even more intimate! Take the photo below of example. When I asked him to bring her in for a kiss he could have just used his one hand under her chin. Instead, he also wrapped up around her with his over hand and she put her hand on his! Amazing! Can you imagine how different it would be if the only spot they were connecting at was his hand under her chin?
Hold on!
When I ask you to do these prompts sometimes I look down at my camera briefly to check exposure or something and I look up to find that the couple has completely come out of the pose and are looking to me for further instructions. Please keep doing what you're doing until I let you know! I promise I will. I'll say something like "Awesome guys! That was perfect! Let's move on to another spot." We don't want to lose the perfect stuff you two were doing.
"But my partner is so shy, self-conscious, reserved"
That's ok! I'm shy myself and there's nothing wrong with that. It's who your partner is so we don't have to change that. While having someone that is self-conscious can make my job harder because they may hold back smiles or refrain from being silly, I have you to help me. You are my best asset in this situation! You know your partner in and out and know exactly how to make them giggle. If you know that your partner might be closed off during our session please, please, please do what you can in helping them get comfortable.
What to Wear
While I'm not too bothered with what you guys wear and don't have any rules, I do have some suggestions if you're having a hard time figuring it out. You're getting professional photos done and I believe that you should look your best. That's why I suggest dressing semi-formally. Partners, please don't let your guys show up in an old worn out baseball hat, a hoodie, busted up skate shoes, etc. I mean that's the aesthetic you might be going for but I've never had that experience before. I've just had some men show up like they didn't really care enough about putting effort into looking great for their engagement session and it sucks. 🙁
"When will the photos be done?"
I will need 2 weeks to edit your images. After they are completed I will be sending them to you via an online Pixieset gallery where you can download them. You are free to share this gallery with friends and family and you can even order prints directly from it! Awesome 🙂
I hope this article has helped you understand what to expect at an engagement photo shoot! You can email me if you have any other questions about what to expect at an engagement photo shoot. You can also view more helpful topics for brides and grooms on the blog.
You might also like
June 9, 2017

April 28, 2017