June 1, 2017
Trillium Trails Wedding – Oshawa Wedding Venues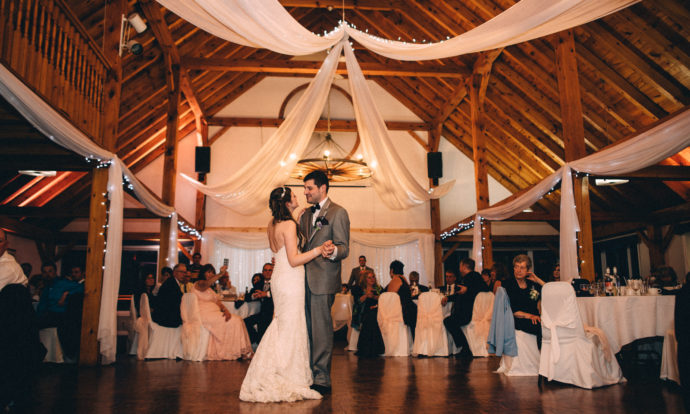 Trillium Trails Wedding Venue
Trillium Trails is a fantastic location for the couple looking for a nature setting in the city. Just a 20-minute drive from downtown Oshawa this former ski resort has all the trimmings of an outdoorsy wedding location. Trillium Trails Wedding Venue has 3 ponds, lots of green space and to top it off is encompassed by a wall of trees on all sides. Their reception hall seats 250 and starts at $102 per person including rental of the bridal suite and the cocktail hall. You can even order a mimosa, fruit and pastry service for you and your girls for only an extra $104 (for 8 people). Trillium Trails is one of those amazing Oshawa wedding venues that you can use for all your wedding day needs. You can use Trillium Trails wedding venue as both your ceremony and reception location or just either one. There's nothing like an easy-peasy wedding day where everything happens at the same spot with no running around. You definitely don't have to go elsewhere for photos because their property is fantastic. This location is exceptionally great for the couple planning an Oshawa fall wedding. Trillium Trails wedding venue's expanse of trees means tonnes of orange leaves in the fall for photos. The warm wood interior of the reception hall also adds to that cozy fall feeling. The interior and location of Trillium Trails is also very fitting for the bride and groom looking for a rustic, country chic Oshawa wedding venue.
Indoor or Outdoor Ceremony Package:
Includes; white folding chairs, signing table, and a 1-hour rehearsal.
Photos on the grounds.
Rehearsals are held either Wednesday or Thursday Evening for an hour.
$1130
Trillium Trails Starter Wedding Package:
Hall and Bridal Room Rental
Choice of Menu
Cash Bar
Cheese and Vegetable tray
Alcoholic and Non-alcoholic Punch
Non-Alcoholic Beverages
Two Bottles of Wine (per table of ten)
Coffee & Tea throughout the evening
White linen & coloured napkins, China, cutlery, stemware Chair covers, Ceiling and Post Swags
Included Skirted Head Table, Cake Table, Gift Table with lights
Event Coordinator onsite
$102 pp (on Saturday)
Check out more wedding venues on the blog.
Photographs created while on assignment as the second shooter with Michelle Lewis Photography
You might also like
April 28, 2017