June 1, 2017
Trafalgar Castle Wedding Venue & Photos – Whitby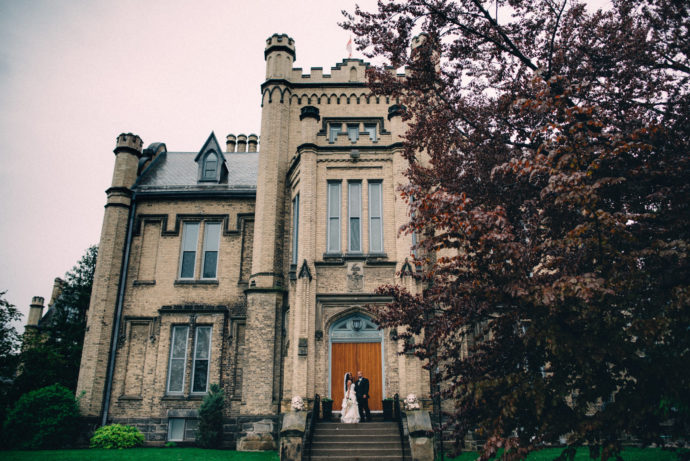 Trafalgar Castle Wedding Venue
Trafalgar Castle is by far my favourite Whitby wedding venue. When I first walked in their front door I was absolutely blown away by it's 1800's architecture, original artworks, and furnishings. And that famous grand staircase! Amazing.
You can spend your entire wedding day at Trafalgar as they have their own chapel and reception area. So why not have your local Whitby wedding at this incredible Whitby heritage spot? Even if you live in Toronto this is a stunning wedding venue choice! Their chapel rental package conveniently includes the photo permit. You can also book up to a 4-course meal reception service with late night food table. If you're not so keen on using all of their facilities you can still purchase a photography permit to create amazing and unique wedding photography.
Trafalgar Castle Wedding Chapel & Photo Permit:
$825.00
2-hour photo permit
The Trafalgar Castle Wedding Photography Permits:
Inside & Outside – 2 hours $450.00 (Maximum 30 people)
Inside & Outside – 1 hour $275.00 (Maximum 15 people)
Outside ONLY – per hour $150.00 (Maximum 30 people
Inside areas include: Common Room, Reception Room, Main Hall & Staircase
Outside areas include: Anywhere on the frontal grounds
Reception packages start at $110.00 for full service and buffet service starts at $100.00
A Brief History of Trafalgar Castle
Trafalgar Castle is Whitby, Ontario's hidden gem. Nestled in between the houses of the downtown Whitby neighbourhood you would hardly know it existed. Yet, it is Whitby's equivalent to Oshawa's Parkwood Estate.
Trafalgar Castle was built in 1859 as Nelson Gilbert Reynolds' private residence. A normal residence during that time would have cost a family $2,000 to completely build, but Nelson spent a massive $70,000 on his new home. I'm sure you've heard of Casa Loma so guess what! Before Casa Loma was completed in 1914 Trafalgar was the largest private residence in all of Canada. Crazy right?!
Unfortunately, Nelson was an avid gambler and only owned his beautiful new estate for a mere 15 before he had to sell it off to cover his losses. To add insult to injury the Methodists purchased for only $30,000. The Methodists had a plan to use the building as a higher education institution for girls. It didn't take much convincing of the Town of Whitby to support the establishment of the Ontario Ladies College. Now called Trafalgar Castle School, it is an internationally known private school with students coming from all around the globe to study there.
Check out more posts about wedding venues!
Photographs were taken while on assignment at second photographer with Michelle Lewis Photography
You might also like
January 10, 2017

October 10, 2017