August 9, 2016
Toronto City Hall Wedding & Getting Married at City Hall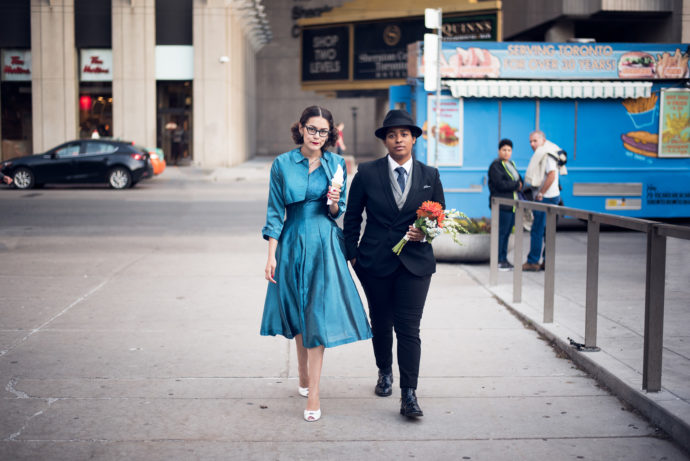 Toronto City Hall Wedding – Alia & Courtney
With this Toronto City Hall wedding series of images I wanted to create a story portraying love between two people that is simple yet striking, individual yet familiar. We are reaching back to a time when the larger part of weddings consisted of signing papers, a first kiss and a few photographs.
In my opinion, the most incomplex weddings are highly intimate and memorable. Furthermore, I have always been drawn to elopements for their personal, quiet aesthetic. Don't get me wrong I love beautifully decorated, lavish weddings where no expense is spared. Those kinds of weddings are what photographers dreams are made of! Yet I can't help but have my heart strings tugged towards elopements. I see lots of breathtaking imagery creatively captured by photographers all across the world that makes me swoon and fall in love. Couples everywhere are turning away from the traditional and conventional to pursue a wedding they feel is fit to accurately convey their love. Therefore, I undertook this shoot with the idea of a Toronto elopement featuring a couple that wanted to break free of the typical wedding confines and celebrate their love in their own private way.
Elopements are something that I am striving to achieve and master in the near future, specifically destination elopements. Trailing not far behind my passion for photography is my passion for travel. So what is more perfect than becoming a travelling wedding photographer?
Hey you sentimental love birds out there, keep me in mind for your destination elopement and help a girl's dream come true 😉 In the meantime, let me know what you think of this collection! Also, I would like to give a big shout out to Alia and Courtney for helping me out with this Toronto City Hall Wedding project. It means a lot to me to have the support of so many great people.
You might also like
September 6, 2017

September 1, 2016