May 31, 2017
Intimate Toronto City Hall Wedding – Zach & Leonardo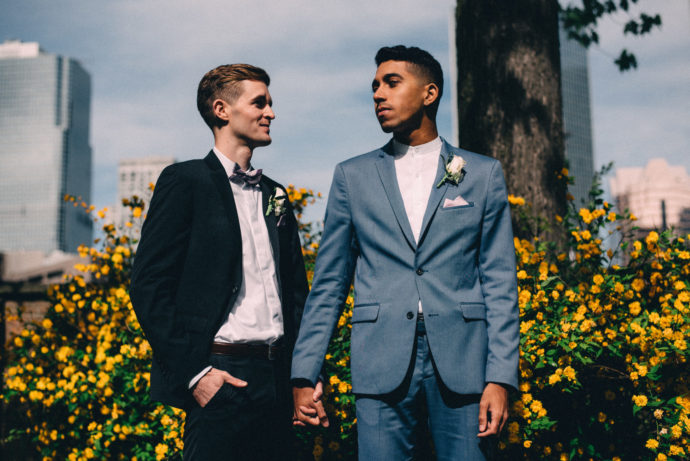 The Intimate Toronto City Hall Wedding of Zach & Leo: Their Story
Zach and Leo first discovered each other on a dating app, which so many of us do these days. However, Leo was studying in Winnipeg and Zach was staying in Montreal. For their first date, Zach actually travelled all the way to Winnipeg. Since that first meeting, it had been a whirlwind of dates across the globe. Leo moved back to Brazil after school. Zach visiting him, Leo coming back to Canada and them both meeting in the middle.
While Zach's proposal was not a surprise, Leo was still overcome with emotion when he knew the question was coming. Leo was visiting Zach in Toronto and Zach had made a plan for them to go out for dinner. They were over top of the city they would soon call home together, dining at The One Eighty. Surrounded by the beautiful view Zach asked Leo to be his life partner and Leo more than happily said yes.
Zach and Leo's Toronto City Hall wedding was a real display of the world travelling that the couple had between them. Zach himself is from Austrailia and Leo from Brazil. Their true love as big as the distance between their home countries. Their intimate Toronto City Hall wedding had 8 of their closest friends in attendance. These incredible friends had flown in from London, Australia, Brazil, and Montreal. The ceremony was also live broadcast across the globe to their family and friends. It was clear that Zach and Leo were in the hearts of so many all over the world.
I really enjoyed Zach and Leo's Toronto City Hall wedding and I feel truly honoured to have been a part of such an intimate and personal event in their lives. To have met their amazing friends and captured the moments of that day for them to cherish forever. Thank you so much for having me witness such a beautiful day!
View more wedding photography.
You might also like
September 6, 2017