June 4, 2017
Tattoo Shop Engagement Photos, Oshawa – Madyson & Dalton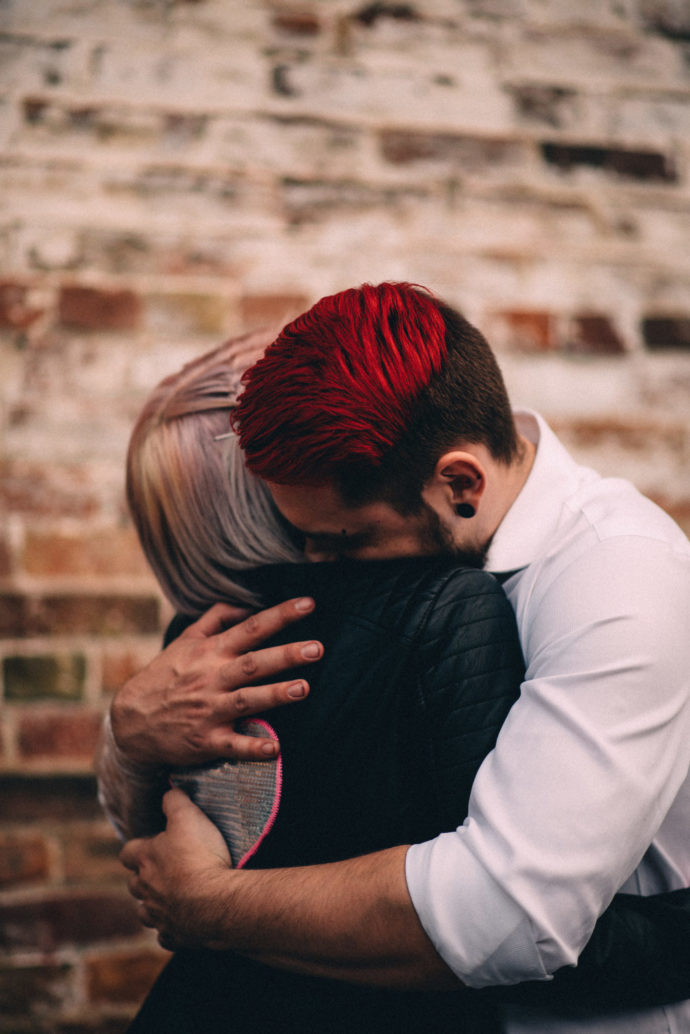 Tattoo Shop Engagement Photos – Madyson & Dalton (plus Daxton): Their Story
Madyson and Dalton met in high school and quickly became best friends.  They basically hung out every day after school. Shortly after graduating high school Madyson fell on some hard luck and found herself with nowhere to stay. Being such a big part of Dalton's life she got to know his family, which lead Dalton's mom to offer Madyson a place in their home. Dalton was so selfless he slept on their living room floor so Mady could have her own space. All throughout high school, Dalton had crushed on Mady. Little did he know that she was crushing on him right back. After finally getting up enough nerve Dalton made his move. Sometime after Madyson said "we just decided we were soulmates" and the pair has been inseparable ever since.
A year later Madyson was pregnant. Being only 20 years old it's quite understandable that she was panicked. However, Dalton reassured her that no matter what he would be there to care for her and their child. Two years later with a cute little boy named Daxton, Madyson says that "He is the best partner and dad in the entire world."
One of the things that the couple bonded over was their love for all things nerdy and Transformers. Dalton had gone to the Transformers convention year after year when he was growing up and it quickly became something they did together. Since Dax's birth, they have been bringing them along for the tradition. However, last summer's convention wasn't quite like the others. Dalton brought Madyson out on the balcony of the hotel they were staying at to enjoy the view. He got down on one knee and asked her to be his partner in life, forever.
Their Session
This session wasn't just an engagement session. It was an engagement session meets family session. How could we not have THIS FACE a part of it?!
Because of this, I wanted to create a story of lots of love and family fun. I had always wanted to do tattoo shop engagement photos! When I brought up the idea of photographing some of the session at Taunton Tattoo Co. in Oshawa where Mady works they came up with the idea of getting each other's names tattooed! An incredible show of love and commitment and made me feel so special to have them do something so amazing for our shoot together.
After getting their tattoos and a few images there we moved on to Hollywood Cone in Oshawa for some sugar sweet family photos. They picked a crazy mutant shake and had lots of fun munching together. There was even a couple funny moments where son (forcibly) feeds dad some donut. Dax is so full of energy and life that it's hard for his parents or anyone else to keep a straight face in his presence.
Once finishing off their dessert we moved on to the Oshawa Car Museum to take some playful family photos and romantic engagement photos in the heart of the imperfectly beautiful textures of the city.
Thanks so much to Madyson, Dalton and Daxton for having me capture your endless outpouring of love for one another. I feel so honoured to be given this intimate insight to your family. I had such an amazing time creating these tattoo shop engagement photos.
Check out more engagement sessions.
You might also like
November 10, 2016

August 28, 2015