July 14, 2017
Sibbald Point Couple Photos, Lake Simcoe – Laura & Jason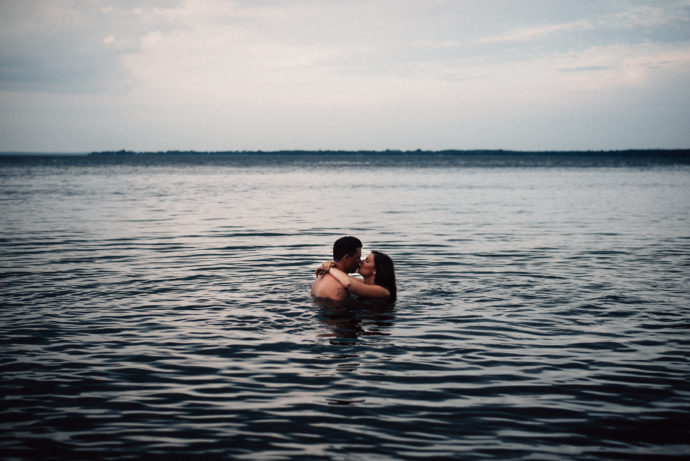 Sibbald Point Couple Photos on Lake Simcoe
For Laura and Jason's Sibbald Point couple photos I really wanted to focus on getting some amazing images in Lake Simcoe. I wanted the water to look dark and intimidating but have the couple display affection for each other very romantically. I wanted the whole shoot to revolve around water and even wondered if I should want it to be pouring rain. What do you know, after photographing the couple on the beach at Sibbald Point Provincial Park and getting ready to hop into the water the sky suddenly turned stormy and the raindrops started falling. Absolutely on time, this added a lovely peaceful vibe to our images.
Sibbald Point Provincial Park was a great location for this couples session. It's a really large area with a stunning beach, lots of cute docks to get photos on and an absolutely fantastic panorama view of Lake Simcoe. I live in Oshawa and the couple lives in Barrie so it was an in between for both of us. The drive up to Lake Simcoe at Jackson's Point was a beautiful country drive that is always a relaxing and inspiring beginning to a shoot.
I met Laura and Jason at their wedding as I was there the second shooter. It was a gorgeous and intimate event at National Pines Golf Course in Innisfil. Their wedding date was July 16th, 2016 so you know what that means?! Our shoot just so happened to take place at a time where I would have their images completed just days before their one year anniversary.
Congrats guys! I wish you many more happy years of marriage 🙂 Thank you so much for working with me on this Sibbald Point couple photos session on Lake Simcoe. It means the world to me.
Check out more Couple Sessions!
You might also like
June 9, 2017

August 28, 2015