June 26, 2017
CN Tower Edge Walk Toronto: Doing Scary Things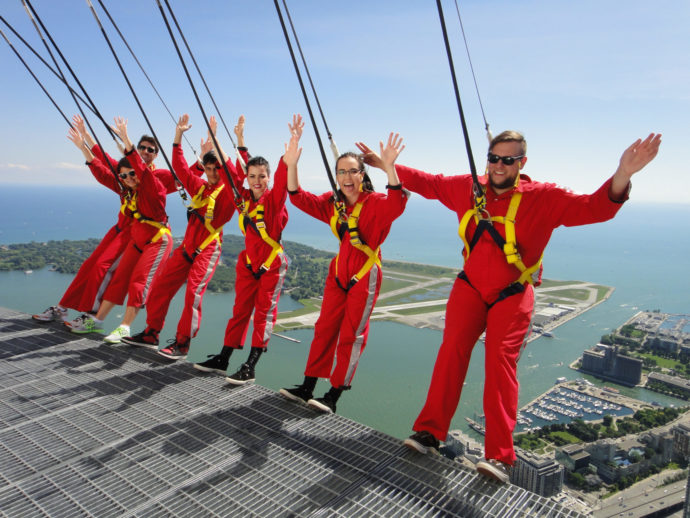 CN Tower Edge Walk Toronto
I really like to gift my loved ones with amazing experiences and memories on their birthdays. I really don't think it's very meaningful to get them a materialistic item in a world that is already obsessed with buying lots of things they don't necessarily need. That's why, when my sister turned 19 I bought tickets for her and I to hang off the CN Tower Edge Walk Toronto . It was a complete surprise until we actually got to the CN Tower and up to it's observation deck. I guess if you're reading this you may think "What if she's terrified of heights?!" Well, I guess taking the risk of buying the tickets without knowing if she would run for the hills was kind of sketchy but I knew my sister lives for adrenaline.
When I told her that we would be suiting up and stepping out onto the very edge of the CN Tower there was a little bit of panic but then she got really excited. I honestly think I was the one that was more nervous! When we finally got off on the walkway I was the one who got a ton of nerves. It's not surprising as humans we don't want to do things that could end our existence and being 116 storeys up definitely makes your brain feel like that's about to happen. I was really surprised with how little my sister was scared to do all of the moves that the Edge Walk instructors were asking us to do. By the time our walk was over I had got way more comfortable and honestly did not want to have to get down. I really recommend this experience to everyone 🙂
Another really awesome thing is that the CN Tower Edge Walk Toronto actually holds wedding now! How crazy is that? Definitely something awesome and unique for the couples out there who really want to wow their guests. Pricing for a CN Tower Edge Walk Wedding starts at $6000 for up to 6 guests.
Would you ever do the CN Tower Edge Walk Toronto? If you liked this article check out the rest of my blog for more 🙂
You might also like
June 20, 2017

October 24, 2017