October 4, 2017
Robert McLaughlin Gallery Wedding Venue Oshawa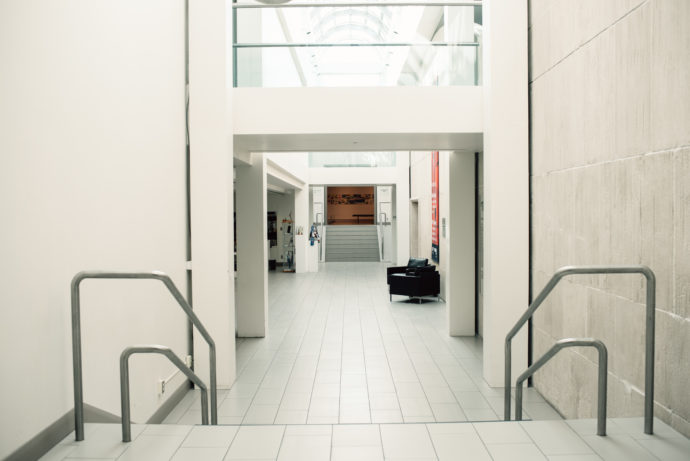 Robert McLaughlin Gallery Wedding Venue Oshawa
The McLaughlin family has had such a profound effect on the City of Oshawa and is most definitely it's most influential family. The Robert McLaughlin Gallery was built in 1967 as a much needed space for local artists to display their work and also be inspired. The idea came to the mind of William Caldwell who had to rent a commercial space on Simcoe St in order to have an exhibition of his work. Ewart McLaughlin, the grandson of Robert McLaughlin, and his wife Margaret agreed that Oshawa was in need of a gallery. They supported this dream by donating money and works of art from their own private collection. The Robert McLaughlin Gallery wedding venue is really a great option for the modern and artistic Oshawa couple.
Reception & Ceremony Locations
Mr. and Mrs. W.S. Nurse Lobby
This modern lobby is suitable for cocktail hours, receptions or small wedding ceremonies.
Rental Fee: $250
Capacity: 150
Isabel McLaughlin Gallery
This large, open space is great for wedding ceremonies, cocktail hours and receptions.
Rental Fee: $1000
Capacity: 250
Arthur's On the 4th
Offers a panoramic view of the city ideal for receptions or small wedding ceremonies.
Rental Fee: $750
Capacity: 60-99
 Robert McLaughlin Gallery Wedding Photos
The McLaughlin Gallery itself offers a variety of great backgrounds for your wedding photography. The gallery creates awesome modern images and tells the story of the couple's love for art. If you are looking to widen the array of wedding photos you can create, however, you don't have to look farther then the surrounding area. There are many beautiful and historic Oshawa buildings just across the street from the gallery.
Thanks for reading and happy planning!
View more articles for brides and grooms in relation to wedding venues on the blog!
You might also like
October 10, 2017

April 28, 2017