July 5, 2017
RC Harris Water Plant Couple Session, Toronto – Lamisse & Nassim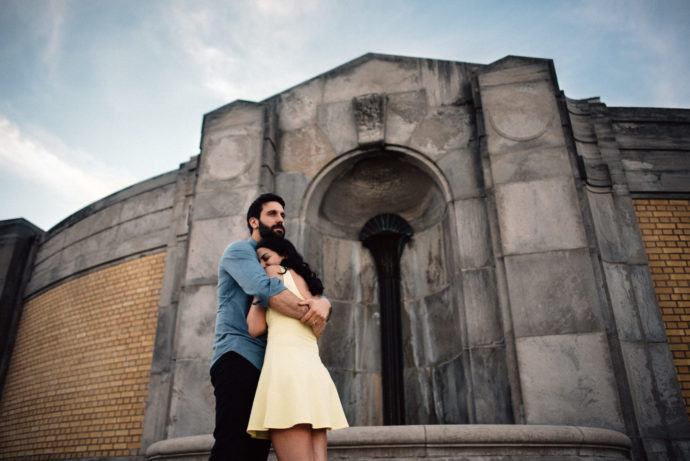 RC Harris Water Plant Couple Session
I always try to find unique locations that aren't so popular for my couple's sessions so when I discovered RC Harris Water Treatment Plant I thought there was no place that could be better. I had never been there before so I arrived early to scope the place out. Let me tell you RC Harris Water Plant couple session location is absolutely stunning and perfect. My favourite is when a location has a combination of beautiful nature aspects as well as impactful architecture and urban textures. This place was perfect. I also couldn't be any happier with how Lamisse and Nassim were acting with each other. I always tell my clients that it's very important to be yourselves and emote the types of emotions you want your photos to portray. For example, you want happy and silly. Be that together! This couple was so happy together it jumps out at you in the photographs. Thank you so much Lamisse and Nassim for being such an amazing couple to work with. It was such a pleasure.
Their Story
Nassim met Lamisse when she was only 20 while at his brother's wedding reception. All Nassim could muster when he laid eyes on Lamisse for the first time was, "Hi." It didn't take long for the couple to begin dating. They love taking walks in the park so their first date was a local Toronto park that would become their favourite stop. The cutest thing about these two's love story is that from the very beginning of their relationship Nassim has kept a journal. This journal was specifically for writing one line passages about their relationship. One day, while Lamisse snuck a peek inside the journal she noticed an entry about buying a ring. It threw a pang of excitement and shock through her body. After discovering this she made more frequent glances into the journal to see what else Nassim had been getting up to. Weirdly enough, the entries included things like "Helped brother work on the bathroom today". This confused Lamisse and made her think maybe she was mistaken. To Lamisse's surprise, Nassim would ask her to marry him in the same park that they frequented together shortly after. They were married 3 years ago in a stunning ceremony and have been absolutely happy renovating their new home and taking walks in the park.
See more Engagements and Couple Sessions!
You might also like
June 2, 2017

June 9, 2017