July 3, 2017
Pickering Wedding Photographer, Herongate Barn Theatre Wedding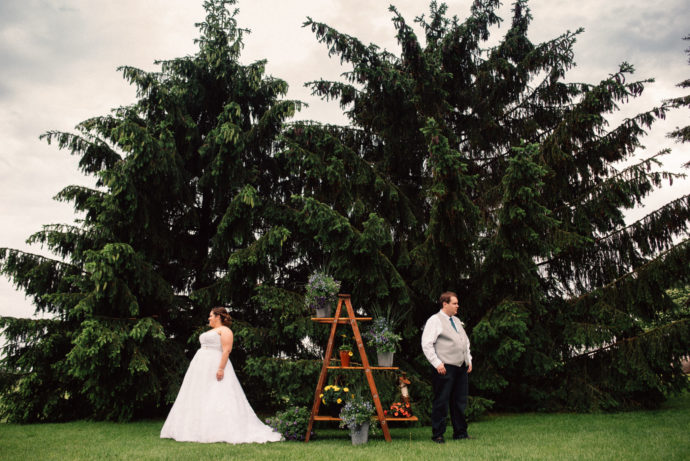 Herongate Barn Theatre Wedding by Pickering Wedding Photographer
Marissa & John's Herongate Barn Theatre wedding (by Pickering wedding photographer, Chelsey Cunningham) was a complete blast even though during their ceremony inside the theatre the sky opened up and let out tons of rain and thunder and lighting. It kept coming down hard so the wedding party photos and family photos had to happen under the protection of overhangs. For their bride and groom photos, we captured some portraits in the theatre room. Thankfully, the weather calmed and we were able to create more Herongate Barn Theatre Wedding photos on the beautiful property. We then moved on into the reception where much fun was had and the speeches were some of the funniest that I've ever heard. Marissa's dad had told a story of how Marissa could have almost demonic tantrums when she was young. One day she had one because she wasn't getting her way so she threw herself to the ground, hitting and then knocking out on of her front teeth which actually ended up chipping the tile. Hilariously, her father presented that exact tile, framed and with the chip circled. Roaring laughter ensued.
Their Story
Marissa and John met online and quickly became inseparable. They share a love of being outdoors, camping every weekend they possibly can. Marissa has even found a new passion in portaging up north. That's why it was super fitting for John to ask her to be his forever life partner up at their family cottage. It was during the fall season, Thanksgiving weekend to be exact and of course, the couple took advantage and headed up north. The fall leaves of oranges and reds all around them like the flame of love between the two of them. John and Marissa knew they would be spending the rest of their lives together but she was still surprised when John got on one knee. Standing on the edge of their cottage's dock John popped the question.
See more posts like "Herongate Barn Theatre Wedding" on the blog!
You might also like
July 20, 2016

October 1, 2016