June 19, 2017
Lightroom or Photoshop for Photo Editing Wedding Photography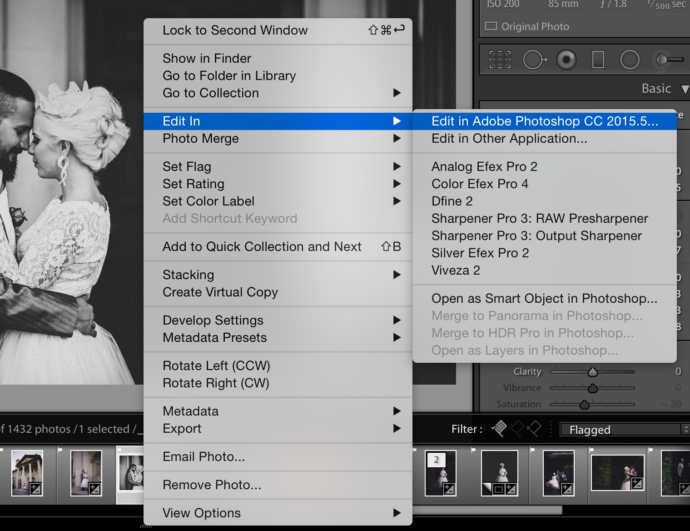 Lightroom or Photoshop for Photo Editing?
I know that the title says "Lightroom or Photoshop for photo editing" but this article for photographers is going to focus on using these programs in relation to editing wedding photography. Going from photo editing family photos, for example, to wedding photos creates a whole new workflow. For me, a 2-hour photo session (most likely engagement) would yield 500-600 photos. Whereas, for a 9-hour wedding day could be anywhere between 1500-2500. Clearly, to ensure the best profitability I have to cull, edit and export the images as quickly as possible. For this reason, I believe Lightroom is the best option for photo editing programs for wedding photographers.
Photoshop
Photoshop is a really amazing photo editing program and it really has the key to my heart. I used it for many many years and have only really been using Lightroom for about 1.5 years. However, if you are a wedding photographer there really is no if ands or buts about it. Photoshop is not the program you are using for editing such a large amount of photographs. That does not mean that you shouldn't be using Photoshop at all when you are editing your wedding photographs. I love that if you need to make more local or find adjustments you can right click on the image > edit in > photoshop. This brings the image right into Photoshop where you can work on it and then save which puts that new version back into Lightroom. Amazing! What's even better Adobe Creative Cloud includes both Lightroom and Photoshop in their photography bundle for $15 CAD a month. While Lightroom has some great tools for local adjustments if you're looking for very exact retouching you should be using Photoshop. For example, I hate the cloning tool in Lightroom. I find it terrible. So if there's something distracting in the background I will move the image to Photoshop and use their awesome selection and content aware tools.
Lightroom
You definitely can't compare Lightroom to the editing powerhouse that is Photoshop. However, Lightroom is just a different kind of animal. Lightroom allows you to import the images that you want to work on right into the program, cull them and then batch edit them. That's where Lightroom gets all the power. When you have up to 3000 images to go through, choose which are the best and then edit probably half of that amount you just can't edit every single one individually like you would have to in Photoshop. Batch editing saves a huge amount of time and it also helps you keep your images consistent. Before I really discovered and learned to use Lightroom I would download my photography to my computer, go through and pick my favourites previewing them in their folders and then edit them in Photoshop. Looking back on it now it was crazy and a huge waste of time. All you have to do is press X or P in LR, sooo much faster and easier. It also took up more space because I would have the NEF, PSD and then the JPEG too! Talk about insane. In Lightroom, all you need is the RAW which then you export to JPEG for your clients. Some may argue that you kind of can can batch edit in Photoshop. You could open all the photos you want to edit which will bring you into Camera Raw, in their you can apply the same adjustments to all the photos. After finishing that and opening to Photoshop you can than edit one of those photos and duplicate the layers there onto the rest of the photos. But this takes forever! Please just use Lightroom for your wedding photography editing!
If you enjoyed this photography advice about "Lightroom or Photoshop for Photo Editing" be sure to check out other articles I have put together for photographers 🙂 Of course, if you have any questions feel free to email me!
You might also like
September 7, 2017