August 14, 2017
Toronto Couple Session, Kensington Market Engagement Photos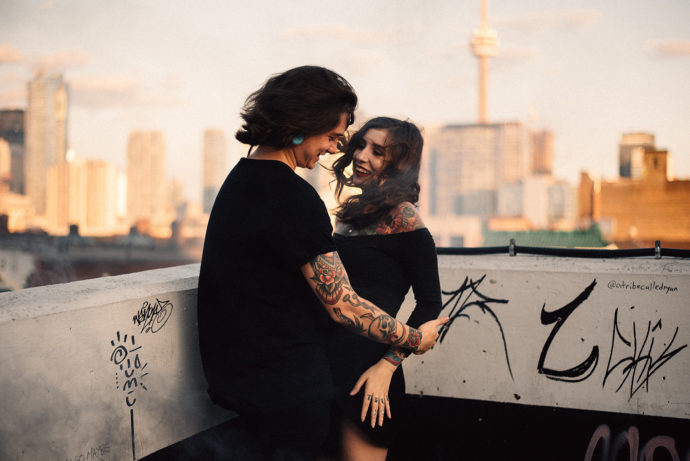 Portia & Thomas – Kensington Market Couples Session, Toronto
Working with Portia and Thomas to create this awesome Kensington Market engagement photos style couple shoot was such a blast. We wandered through the busy market area getting to know each other and using all the perfect textural backgrounds to add to the edginess of our shoot. I choose to photograph this session at Kensington Market in Toronto for exactly those reasons. I love texture so much and use it in my work as much as possible. I'm not sure exactly what draws me to rough textures so much but I feel it adds lots of dynamic. I even brought along smoke bombs to try out for the first time but it was unfortunately way too windy for that! All the while, Portia and Thomas were such troopers dealing with the smoke. I didn't know it would smell so much! Oh well, we still discovered a fantastic spot in Kensington Market to get a view of the cityscape including the CN Tower to capture more great images.
Like many modern couples, Portia and Thomas met via Tinder. For their first date, they met up at a cafe in the area and chatted. They hit it off right away. The two like spending time with their newly adopted cat and checking out local vegan restaurants. They have a mutual love for tattoos which they are constantly collecting. It was cool to find out that Thomas' tattoo artist actually works at Taunton Tattoo Co. in Oshawa where I photographed this engagement session. The couple moved in together after Thomas found himself looking for a new place to live. Portia, living alone at the time, suggested he move in with her. The rest is history! Good luck you two. It was awesome meeting and working with you 🙂
See more photos like these Kensington Market engagement photos!