January 30, 2016
Hazelton Manor Wedding Photos – Nicole & Curtis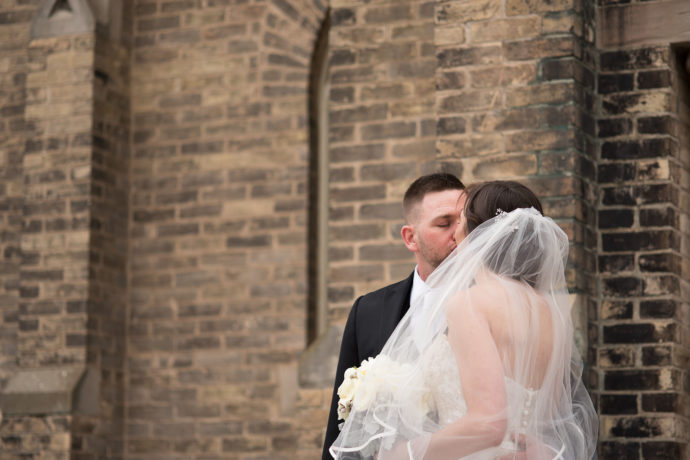 Hazelton Manor Wedding Photos – The Story of Their Day:
Nicole and Curtis' beautiful winter wedding ceremony happened in Aurora's beautiful Trinity Anglican Church. This church is by far the best church that I have had the opportunity to photograph it. It's architecture has a modern feel and it's large windows let in lots of stunning light. As I write this I realize that they didn't have any stained glass windows inside the church. That's why it was so bright though! The traditional stain glass windows in most churches really cut the light and make a photographer's job harder. Especially if the church has strict photo restrictions. Nicole and Curtis had a very nice intimate church wedding ceremony. Another great characteristic of this church is that it is attached to it's original, older building. We were able to sneak away from all their guests after the ceremony to capture some great images inside it.
After the ceremony, we headed to Sheppard's Bush Conservation Area in Aurora for their wedding photos. Man, what an absolutely fantastic location. Especially that it was in the winter time. Perfectly aligned rows of trees tug at my heart and every time I see them during a session we just must capture some photos featuring them. The also had a couple of very cool cabins that really added to the nature theme that the couple was going for on their day.
Nearing the end of the day, we headed over to the couple's reception venue, Hazelton Manor. Wow! Very beautiful and elegant. The perfect GTA wedding venue for the traditional bride. Also smart to have a winter wedding as usually pricing is cheaper for most vendors. Their beautiful ballroom was decorated in an outdoorsy winter theme. What a beautiful and great party!
Thank you so much to Curtis and Nicole for having me capture your Hazelton Manor wedding photos! It was so much fun 🙂
You might also like
December 20, 2016

December 28, 2017