August 25, 2017
Enoch Turner Schoolhouse – Toronto Wedding Venues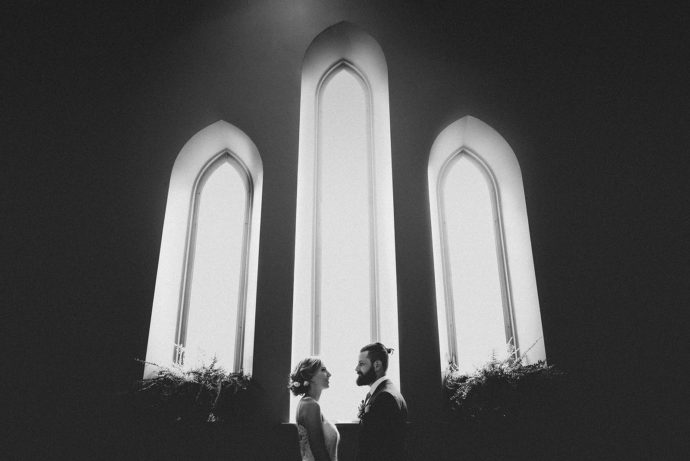 Enoch Turner Schoolhouse
The Enoch Turner Schoolhouse was built in 1848 by you guessed it, Enoch Turner. However, that wasn't always what the school was called. It was originally called the Ward School. Enoch Turner was a wealthy brewer and philanthropist and decided to build the school to bring education to the poor neighbourhood located around his brewery. This location was known as Corktown because of the large number of Irish immigrants and the name still stands to this day. Amazingly, Enoch Turner Schoolhouse was the first ever free school in Toronto and began the free school movement in the area.
The schoolhouse is a one story brick building designed in a Gothic Revival style by Henry Bowyer Lane. In 1869, famed Toronto architect Henry Langley expanded the small building to what we see today.
Weddings at the Enoch Turner Schoolhouse
The schoolhouse is the perfect Toronto wedding venue for brides and grooms looking for an intimate wedding venue that transports you back to the early history of the city. The venue is located right behind Litte Trinity Anglican Church which is also a great option for the brides and grooms seeking a church ceremony. There is also a small parkette in between the two buildings which offers a more natural background for their wedding photos. However, the inside of the schoolhouse is so beautiful you could spend most of your time in their capturing gorgeous photography with your partner.
The schoolhouse is also a great option for couples that are on a smaller budget. Because the school is a museum and not located in the uber expensive part of town, it is a more realistic option. The venue is made up of the West Hall, Schoolroom, and Salon. The West Hall is the large reception room where you see the fantastic gothic windows. This room fits up to 150 guests. The schoolroom, which is the original schoolhouse building, is furnished just like how it would have back in its hay day. The Salon is the main area once you enter via the main entrance. Both areas are great for cocktail hour.
As a photographer myself, I can say this location is perfect for couples who value their photography. You don't have to worry about finding a rainy day back up and even though the ceremony is indoors the large windows create a stunning light. Also, because the walls and ceiling of the West Hall are white it makes our job super easy when lighting your reception. There's no way you can walk away from a wedding at this Toronto wedding venue without the most beautiful wedding photography.
Enoch Turner Schoolhouse Rental Fees
Friday: $2000
Saturday: $2750
Sunday: $1800 (Long Weekend Sunday: $2750)
Mon-Thurs: $1250
Included in the rental fee are:
1 site host
150 chairs
1 wired microphone
PA system
1 podium
Grand Piano
2 easels
1 screen
1 AV cart
3 coat racks with hangers
Eight 8 foot long rectangular tables
Six 6 foot long rectangular tables
Here is a break-down of all fees:
Venue rental fee
Catering (includes food, rentals and staff)

Includes the landmark fee (15% on food, staff and non-alcoholic beverages) – approximately $120 / $140 per person

Party Alcohol Liability insurance if you are bringing alcohol ($250 with palcanada.com)
Security: $200
SOCAN music fee if applicable: $66.86 (added to your contract)
Re:Sound music fee if applicable: $30.09 (added to your contract)
Special Occasion Permit at the LCBO if alcohol is served: $25
Optional – Extra piano tuning: $150
Optional – A rehearsal can be booked (only if the Schoolhouse is available) no more than 2 weeks ahead of the wedding date, and depends on availability. The fee is $150.00 for one hour. There is no guarantee that the venue will be available for a rehearsal at your preferred date
You can bring your alcohol by obtaining a Special Occasion Permit at the LCBO and we do not charge corkage fee.
You might also like
June 15, 2017

June 27, 2017