September 20, 2017
Durham Region Photographers – Bowmanville Engagement Photos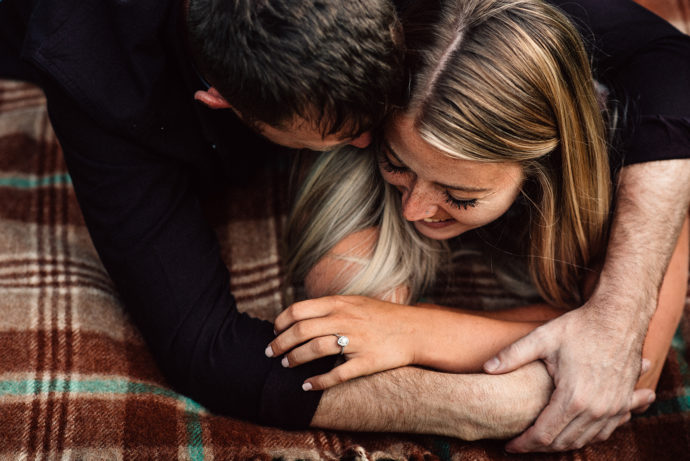 Melissa & Jim Engagement Session – Durham Region Photographers
When Melissa told me that she wanted a Bowmanville engagement session with a more country feel I decided that a great location would be Long Sault Conservation Area in Clarington. Long Sault is one of my favourite areas to photograph because it's quiet and offers so many spots with great tree backgrounds. Trees are so beautiful and I really love incorporating them as an element in my photographs. I also wanted to focus on capturing a lot of motion during their engagement photos. I am not a photographer that poses or contrives my images. Capturing motion in images really brings forth life, energy, and genuine emotion. To enhance their motion I slowed my shutter speed so you can see the blur that their motion created. I believe that Durham Region photographers should always be pushing to better their work via experimentation and fearless creativity.
Their Story
Melissa and Jim met through the co-od hockey team that they were both a member of. Both of them are athletically inclined and love being outdoors. Jim asked Melissa to marry him by putting her engagement ring in a tackle box they were using while on a fishing trip. When Jim suggested that she switch her bait, Melissa refused. She didn't need Jim's help when it came to fishing! She knows what's shes doing. As Jim's hints were not working he gave up and decided to go into the box himself and retrieved the ring. Melissa felt a little bit bad about making Jim's big moment that much more nerve-racking but she is so excited and happy to be marrying the love of her life. They will be getting married at Belcroft Estates in Gilford on October 27th, 2018. Melissa will also be continuing the rustic, country theme on their wedding day. I can't wait to capture their big day. Thanks again guys 🙂
View more engagement sessions in my portfolio.
Engagement photography by Durham Region photographers, Chelsey Cunningham Photography.
You might also like
August 28, 2015

December 11, 2017