August 16, 2017
Backyard Marriage Proposal – Scarborough Proposal Photographer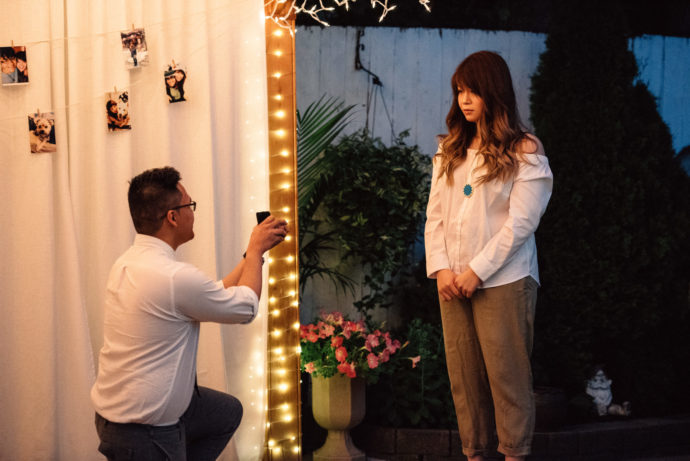 Backyard Marriage Proposal in Scarborough
I was so excited when I was emailed by Darren about capturing the super romantic backyard marriage proposal that he had planned for Vanessa. He had so many cute details in place that would make for a beautiful background for Toronto proposal photography. Darren even moved up the engagement date as I was to be on vacation in BC on his requested date. Amazing! Thank you so much, Darren! It means so much that you included me in such a lovely memory.
Their Story
Darren planned out such an adorable setting to ask Vanessa to spend the rest of her life with him. He took here out for a romantic dinner than blindfolded her for the drive afterward. He proceeded to take her to his parent's backyard where he led her into a beautiful setting of candles, roses and string lights. Secretly, all their closest family and friends were anxiously waiting inside to pop out and congratulate the couple once Darren had asked the big question. After leading Vanessa to the exact spot he would ask the question, he held her close and spoke softly into her ear. He then got on one knee in the middle of the roses shaped as a heart and asked her to remove the blindfold. For a second she was motionless, realizing that was happening she gave a huge smile and said "Yes!". They hugged and kissed and smiled. They then proceeded to share in a slow dance under the gazebo. So romantic and intimate. I feel so lucky to have been there to capture such sweet, sweet moments. After a little more talking and laughing their people came out to greet them. Suddenly, they were surrounded by smiling faces.
Check out this Scarborough Bluffs proposal photography post as well! The Scarborough Bluffs are an amazing place to get engaged!
You might also like
December 11, 2017