October 23, 2015
Albion Falls Engagement – Brittany & Arthur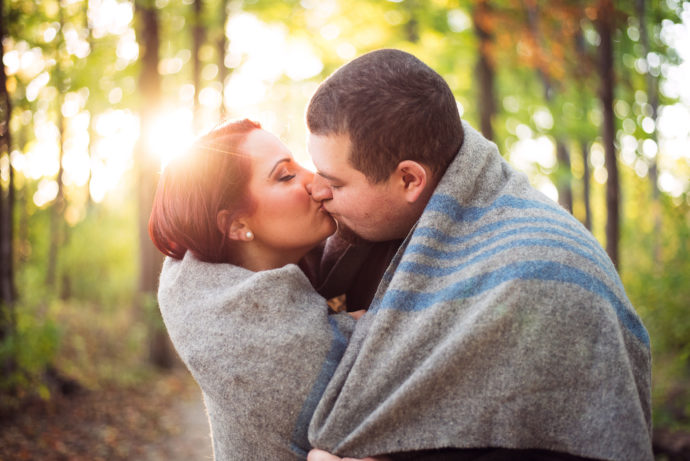 When Brittany suggested shooting Albion Falls engagement photos at this popular Hamilton location I couldn't have been more excited. Photographing near a waterfall had always been on my list and what better place than the waterfall capital of Canada! We all had such a blast hiking around and shooting together. There were so many fall colours to work with and they brought their adorable beagles along which I always love. Albion Falls is a little bit of a treacherous area but this couple went as far as to traverse across the water to top a massive boulder to get one of my favourite shots from the session. It's so amazing when your couple works just as hard as you to create gorgeous engagement photos. We also shot at the Eramosa Karst Conservation Area which seems to be a hidden treasure. With its sprawling trees, cliff top views and tranquil atmosphere it was a welcome addition to this peaceful fall outing. Thanks so much to Arthur and Brittany for suggesting this location and introducing me to such beautiful sights.
Are you in search of a location for your Hamilton engagement session? Check out Webster Falls in Hamilton. Definitely the next photo location on my list of those in the waterfall capital of the world!
A Little Back Story
The very first friends my mom and dad met upon moving to Canada was Gerry & Carol. They would go on to become such great friends that my dad was Gerry's best man. When Carol gave birth to their first child, Brittany, my mom turned to my dad and said: "I want one!" Nine months later I was born. It has all come full circle with Brittany choosing me to photograph her own wedding in Hamilton.
Stay tuned for Brittany and Arthur's July wedding at the Royal Botanical Gardens in Burlington and Carmen's Banquet Hall in Hamilton.
Albion Falls Engagement Photos
You might also like
July 30, 2016

December 29, 2016